Professional & ethical advice for every life stage
Everyone deserves the opportunity to optimise their financial position by engaging a professional financial adviser. A knowledgeable, experienced financial adviser will help you identify smart ways to grow your wealth and achieve your financial aspirations no matter what stage of life you might be in.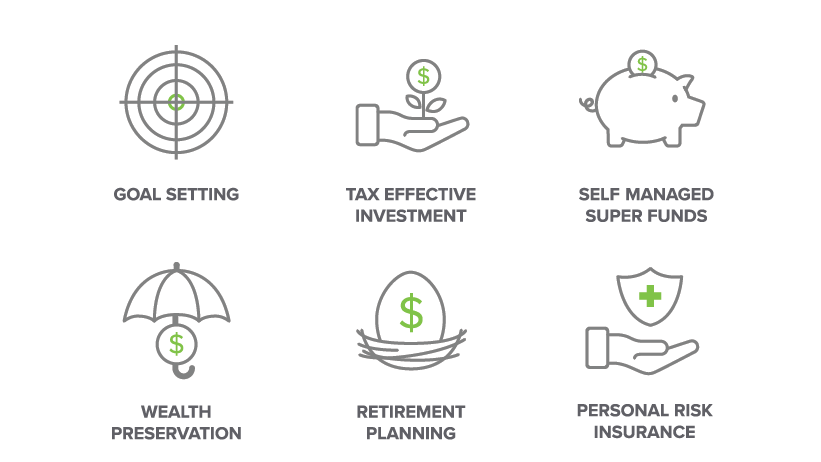 What area are you seeking advice?
We are here to help our clients achieve the lifestyle they dream about,
no matter the stage of life they are currently in.

Goal setting
Career success or transition, a growing family or changing lifestyle priorities are great opportunities to review your financial goals with an expert.

Tax effective investment
Investing for the future is fundamental to reaching the goals you're setting out to achieve. Whether it's paying off your home loan sooner, saving for your children's education or dreams of a sunny holiday, it takes a plan to turn them into a reality. Investing can be much more than just a regular deposit into a bank account – by taking charge of your financial situation, you can magnify your savings and achieve your goals sooner.

Superannuation & Self Managed Super Funds (SMSF)
The number of Self Managed Super Funds continue to increase each year as more people elect to take control of their super.
With the stakes so high and large amounts of money involved, it is vital for you to have your finger on the pulse, whether you are considering a SMSF or not.

Wealth preservation
Over a lifetime, income is your greatest asset and the fuel for your financial goals. In times of need, insurance can take the financial concern out of the equation. By having access to a range of leading insurance providers, we can ensure that we can locate the right policy to protect your wealth against the unexpected. Our expertise provides strategies for two key areas: Income Protection Insurance and Business Protection Insurance.

Retirement planning
Planning for your retirement could be one of the most exciting phases of your life. After having worked so hard your whole life to get yourself into the best possible position, you have arrived at the point where you can consider a life after work and what your financial situation will look like when you cease working. We specialise in working with our clients to understand their specific situation as they approach retirement. We aim to understand the history that has brought you to this point and your plans, goals and dreams for the future. We aim to provide and implement a financial solution for you to achieve the goals you have set for your retirement.

Personal risk insurance
While nothing can compensate for the emotional loss that such a catastrophes cause, it is possible to protect your family and personal finances by putting in place appropriate risk insurance. Consider the financial consequences of not being able to work because of illness or injury. Or possibly the death or disablement of a family member, in particular the major breadwinner. A morbid topic, but one of great importance. Our expertise provides strategies in three key areas: Life Insurance, Total & Permanent Disablement (TPD) insurance and Trauma Insurance.
We understand that every client is unique, and therefore we align our advice with an awareness of your personal values, financial needs and goals.
Take the next step today
Book a meeting with an adviser
FINANCIAL PLANNING DISCLAIMER: Highview Wealth Solutions Pty Ltd ABN 96 135 996 842 T/AS Highview Accounting & Financial (Corporate Authorised Representative No. 337009), Silvio Marinelli (Authorised Representative No. 457162), Bruce Chisholm (Authorised Representative No. 1235025), D'Avery Pillay (Authorised Representative No. 469915), Richard Vaughan (Authorised Representative No. 358609) of Highview Wealth Solutions (Aust) Pty Ltd ABN 22 665 047 530 T/AS Highview Accounting & Financial AFSL No. 546561.
View the Financial Services Guides & Advisor Profiles:
PERSONAL RISK INSURANCE DISCLAIMER: Highview Risk Protection Pty Ltd ACN 656 219 528, T/AS Highview Accounting & Financial, is a Corporate Authorised Representative (No. 1301852) of MRC Financial Advice Pty Ltd ABN 58 636 335 227. AFS License No. 520249. PO Box 7206, Melbourne, VIC, 3004.
View the Financial Services Guide: