Sharemarkets reaching record highs despite lockdown restriction.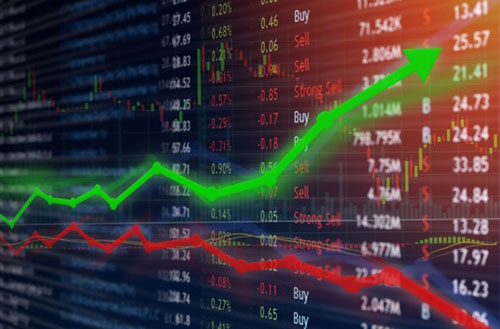 The sharemarket is continuing to show strong signs of resilience despite the Australian economy facing a double-dip recession.
Australia looks increasingly likely to have a double-dip recession, with economists widely agreeing the September quarter will be negative, after the country had 29 years of uninterrupted economic growth.
The S&P/ASX 200 closed slightly down 46.4 points, or 0.6 per cent, to 7,582.5, after hitting an all-time record high of 7,632.8 in late trading on Friday afternoon.
Despite the economic warning, businesses from a variety of sectors have surprised on the upside, with Commonwealth Bank, BlueScope Steel, JB Hi-Fi, QBE and Telstra all having noticeably strong results over the last seven days.
AMP chief economist Dr Shane Oliver explained that investors are seeing stronger returns despite the economic risks because of good news.
"While it may seem perplexing, there are good reasons behind it: earnings news has been strong, with investors cheering the return of capital via dividends and buybacks from several companies," he said in his latest economic update.
Not only are investors spurred on by strong results but also by experience.
"Last year's experience showed that the economy will bounce back strongly, helped by massive fiscal support; monetary policy may now be easier for longer; lower bond yields and the surge in earnings have made shares cheaper," Dr Oliver explained.
Moreover, he said, investors are expecting more mergers and acquisitions, while vaccines are providing optimism that we will see a more sustained recovery from later this year.
"And, of course, global shares have also been strongly supported by some of the same things," Dr Oliver continued.
BetaShares economist David Bassanese largely agreed with Dr Oliver, using a recent webinar to explain why he believes the sharemarket will continue to rally globally despite new COVID threats.
The economist highlighted that the big picture reveals steady interest rates and valuations, with earnings expected to continue to push the market higher.
"People say it's all interest rates and reserve banks," he said.
"Earnings have rebounded very strongly on the back of a V-shaped recovery, both globally and in Australia, so this is a fundamental driver of the markets since late last year," Mr Bassanese explained.
This article has been written for general information purposes only and it does not constitute personal advice. If you'd like to discuss your personal circumstances, our team at Highview have fantastic Financial Planners available for you to book a consult. Visit our website here for further information on these services: https://www.highview.com.au/services/financial-planning/
Source: NestEgg by Momentum Media 17th August 2021