Beau Appleby promoted to Associate Partner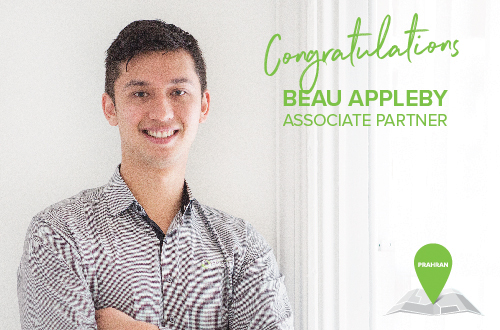 We are thrilled to announce Beau Appleby's promotion to Associate Partner, joining Simon Byers as a part of the leadership team at Highview Prahran.
His mentor Simon Byers, is incredibly excited about Beau taking on this leadership position – "Beau was my second ever employee coming fresh out of University. His determination to get better and desire to learn was exceptional from the get go. He received strong results throughout his CPA and started to bring in his own clients proactively, as he took on more responsibility and the team around him grew. Leaders within Highview have always shown their own hand and stuck out as potential future Partners in the business. Beau was certainly one of these leaders, so once he hit 5 years within the Highview team he was given the same opportunity I was at that level – to step up and become a Partner. Hard work is rewarded at Highview and Beau has certainly earned his opportunity. Exciting times ahead for the Prahran office and for Highview as a whole!" said Simon.
Well done Beau, we're all very proud of you!
If you'd like to read more about what makes Beau tick, read our article 'Get to know Beau Appleby' here: www.highview.com.au/get-know-accountant-beau/