Would you consider a digital receptionist?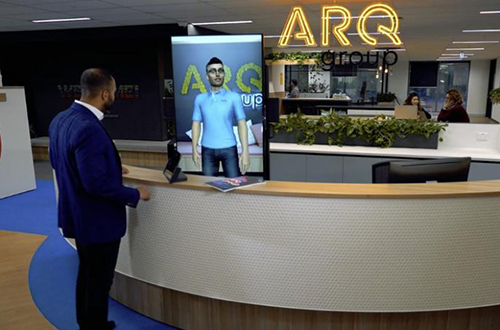 Australian digital solutions provider Arq Group has unveiled a fully digital receptionist, which it claims will enable businesses to personalise each customer experience at the initial point of contact.
The company, founded in 1996, unveiled its virtual concierge service, which uses a combination of machine learning and artificial intelligence.
Customers are greeted by a computer-generated person on a digital screen, which offers voice interactions.
A demonstration video on the company's website shows a customer arriving at an office for a meeting. He types the name of the person into the tablet, prompted by the digital concierge, and once confirmed, sends a text message notification to the relevant person's mobile phone.
A more sophisticated version in the video removes the tablet altogether, using voice interactions, to notify the relevant person their guest had arrived, and offering to order the customer a coffee or other beverage while they wait and even offer to book a car for them once the meeting concludes.
Meanwhile, a separate staff member waves at the screen, on which sits a small camera, and asks to be let into the secure part of the premises. The digital receptionist verbally acknowledges the request and grants access.
"Seamless touchpoints that look and feel the same, no matter where you engage with a brand, are hard to come by. Creating an office space without a reception, that is still welcoming and representative of the organisation, creates a holistic experience that many businesses are still struggling to tap into," said Arq Group's Daniel Johnson.
"The receptionless office enables businesses to free up their human resources to handle more complex tasks while still giving customers a consistently positive experience at every office touchpoint. It's not about replacing staff, it's about freeing them up to add value to other parts of the business."
He said that the machine learning element uses each customer interaction to store relevant information, process their needs and questions, for use in future interactions.
The technology is already in use at Arq Group's three Australian offices, in Sydney, Brisbane and Melbourne.
According to Mr Johnson, retailers as well as travel and tourism businesses and those in HR and resources are most likely to benefit from the current technology's capabilities.
Arq Group's launch of the digital receptionist comes in the same week that a robot-controlled ice cream parlour opened in Melbourne, where the customer service "staff" are three robots.
Source: Article written by Adam Zuchetti, for MyBusiness.com.au