WEBINAR: Navigating the NEW business landscape – Post Pandemic.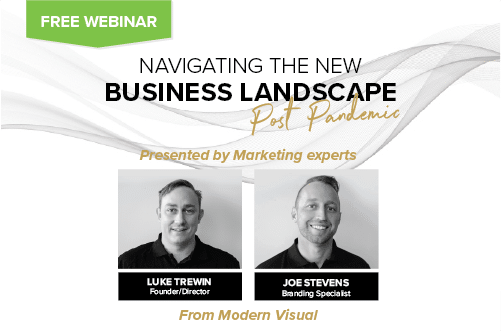 Join our good friends Luke & Joe from Modern Visual for key business insights – what we've learnt since the pandemic & moving forward how businesses can arise & flourish in the 'new' landscape we find ourselves in.

DATE: 14th April
TIME: 7pm via ZOOM (Link will be emailed to all RSVPs)

What's covered
Luke & Joe will discuss key topics surrounding:
• Growth goal setting in an inherently unpredictable year.
• How proactive maneuverability will remain essential in navigating the new business landscape.
• Your newly evolved customers & how to keep them happy.
• The importance of your business' software & operational procedures.
• High converting websites – is your business ready? Leads, conversions & added volume to sales systems will cause more problems if your business systems & software are not ready.
RSVP now – It's FREE! Email brodie@highview.com.au by Tuesday 13th April. A zoom link will be sent to all RSVPs.
Full event details here (PDF)