Silvio & Aaron's 51km trek that raised $9,388 for the Alannah & Madeline foundation!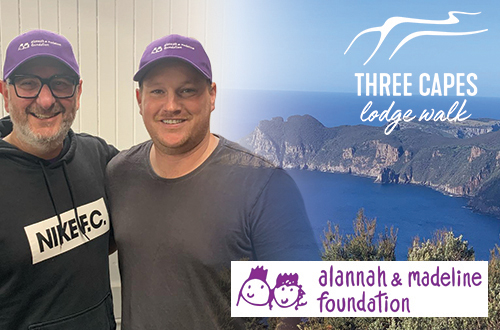 In April, Silvio & Aaron completed their courageous mission – trekking 51kms over four days through the Three Capes Lodge Walk in Tasmania. Both trekkers are huge supporters of the Alannah & Madeline Foundation & the influential work that it does in keeping children & young people free from violence & trauma wherever they live, learn & play. These two Highview legends passionately accepted this challenge, whilst increasing awareness & raising funds for children in need by 'Walking the distance for their right to be safe!'

Here are some of the highlights from their incredible trek. Needless to say, the Highview crew are in awe of their willpower & dedication. Well done guys!
DAY 1
All ready to go with a 6km trek ahead! The guys were thrilled to have a surprise appearance from a playful dolphin support crew! What an exciting display to kick off their adventure.
DAY 2
The legs were officially warmed up today. The 11km walk up 100 flights of stairs was made easier by the magnificent views.
DAY 3
110 flights of stairs & 14kms trekked amongst stunning scenery. Still smiling thanks to their fundraising supporters, with every donation driving them to stay strong & keep on trekking!
DAY 4
Finishing off with a BANG! 20kms trekked & 197 flights of stairs climbed on the last day. Not a moment of weakness, but simply appreciation for those who supported their mission by donating to the Alannah & Madeline Foundation.

Silvio & Aaron reflect on their experience…
"To have the opportunity to be a part of The Alannah & Madeline Foundation Three Capes Walk was such a privilege. Not only did we get to meet some amazing people, but we saw the magic of Tasmania & contributed to something that is bigger than us. To share it with Walter who suffered an incredible loss 27 years ago in the Port Arthur tragedy, & for him to fiercely pursue gun law change in Australia, is something I will be eternally grateful for & never forget."
– Silvio Marinelli
"Honestly the views were absolutely stunning, but to be able to join Walter & his partner Bridgette for such a significant event was truly amazing. Being the 27th anniversary of the Port Arthur massacre, where Walter tragically lost his wife & daughters (Alannah & Madeline) & to be there to play my small part to support it, is something I will never forget.
– Aaron Straughair
Needless to say, our team are deeply inspired by their efforts.
#keepkidssafe #fortheirrighttobesafe #makeadifference #donatetoday #highviewfamily #inspirational #courage #commitment