Share the love & support local businesses during this chaotic time.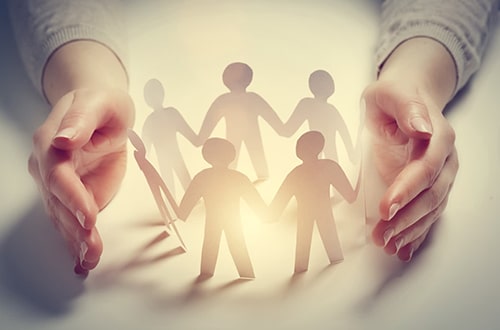 The coronavirus outbreak has placed Australia's vital small business sector under immense strain, but customers can still support their local businesses even through isolation. We can still share the love, in a safe and effective manner.
As Australians increasingly choose to self-isolate to prevent the spread of the coronavirus, small businesses have been hit hard and could face closure.
"Small businesses, and businesses generally, are feeling incredibly worried," ASBFEO ombudsman Kate Carnell told The New Daily.
"Remember these small businesses rely on the income from their business to feed their families and pay their mortgages."
And what they need most is customers.
Here are some of the ways Australians can throw a lifeline to their favourite businesses.
SHOP ONLINE
The popularity of online shopping has exploded in recent years but buying from online stores headquartered overseas will do little to help Australia's brick-and-mortar stores. So instead, customers should try to buy goods from local retailers.
Although this might be more expensive in some cases, customers are savvy and have the skills to spot a rip-off and avoid it in favour of more reasonable price at other local businesses.
GET IT DELIVERED
One of the biggest challenges facing small businesses is the decline in foot traffic as Australians self-isolate to preserve their health. But in the age of the internet, being cooped up in the house doesn't mean you can't have a restaurant-quality meal.
Consumers should consider ordering online the things they normally buy from their local shops to be dropped off at their door. Already, businesses that previously didn't offer delivery are rushing to do so to make sure customers don't miss out.
BUY GIFT CARDS
Traditionally seen as a last minute or impersonal present, the humble gift card can also play a big role in keeping small businesses afloat. These are a great way to support businesses that consumers can't visit during the coming months as they give the businesses the money now, and when the business is back up and running, you or whoever you bought it for will be able to get the stock.
Buying gift cards will help businesses maintain their cash flow if customer numbers fall.
LEAVE GOOD REVIEWS
If you are financially unable to keep paying as usual, consider leaving great reviews online for services you've used and enjoyed, or refer them to others.
A word of support can also go a long way for stressed-out business owners, we shouldn't overstate how far some moral support can go.
NOW MIGHT BE A GOOD TIME FOR HOME PROJECTS OR REPAIRS
If you've been meaning to put up a fence, do a bit of landscaping, replace some windows or tackle any other project that doesn't take more than a few people to complete, find a local handyman or service to help.
On-site auto mechanics are also available if you need them. You can still meet the self-isolation recommendations during these visits and transactions.
Source:
Finance, written by Killan Plastow accessed via thenewdaily.com.au