Nick McPhillips announced WINNER at the Accountants Daily 30 Under 30 Awards 2019!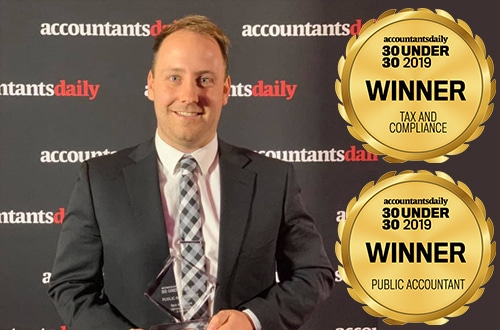 Associate Partner of the Cranbourne office, Nick McPhillips, has just been announced WINNER of the 'Public Accountant Award' / 'Tax & Compliance Award' at the Accountants Daily 30 Under 30 Awards 2019.
Held at The Sofitel in Sydney this evening, Thursday 5th December, the Accountants Daily 30 Under 30 Awards is Australia's largest independent awards program for the rising stars in the accounting industry. The awards present an exceptional opportunity for young accountants to showcase their achievements & drive their career, on top of recognising their excellence & dedication.
The finalist list, which was announced on 21 October 2019, featured over 120 high-achieving accounting professionals across 15 categories. Nick McPhillips was named a finalist in not one, but two categories!
"I'm very grateful to be among such an inspirational group of professionals & to win this award is so fantastic. It's very humbling." said Nick McPhillips, moments after accepting his award.
As a winner, Nick has been recognised amongst Australia's leading young accountants. "The Accountants Daily 30 Under 30 Awards provides a platform to elevate & recognise the up & coming names in the accounting industry," said Accountants Daily deputy editor Sarah Kendell. "Through their innovative processes, efficient service & commitment to bringing new ideas to their clients, this exciting cohort are helping to drive the profession forward into the future."
Please join us in congratulating Nick on this much-deserved honour – what an incredible achievement!
Learn a little more about Nick & his journey at Highview…
Highview was Nick's first employer, & 10+ years on has seen passion, hard-work & an unrivalled focus towards client satisfaction project his career to Associate Partner.
Nick joined the team initially to complete his work experience component while in Year 10, then simply never left. Nick has gone from strength to strength over the years & is a powerful asset to the Highview leadership team.
When asked 'What's your favourite part of the job?' Nick responded "Achieving a desired result for a client is really important to me – when you work with a client who has a goal & then you assist them along their way to achieving the goal. You get a great deal of satisfaction when the desired result is achieved & the client is reaping the rewards."
Nick is a true team player & an excellent leader. His knowledge & ability to provide clarity to clients surrounding technical information & advice comes naturally to Nick. Clients enjoy their interactions with Nick & often say that he's simply an "all-round good guy who knows his profession well."
Guiding & supporting clients & forming long term relationships built on trust & reliability remain at the core for Nick. He is eager to continually learn & grow as a professional, build on his experience, broadening his areas of expertise over time.