Meet D'Avery Pillay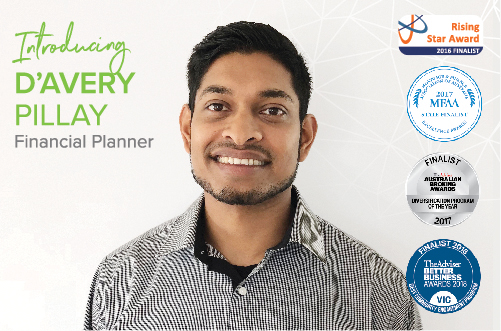 We're always excited to announce new team members joining the Highview family, simply because every team member contributes to our businesses' success.
However, introducing D'Avery this month to our Highview community has some extra layers of excitement surrounding it. Reason being, D'Avery is a part of Highview's newly expanded Financial Planning service offering at Highview. He has joined us during a pivotal growth moment and we believe he's the perfect person to work alongside our leading Financial Planning experts Bruce Chisholm and Silvio Marinelli, servicing our growing client base with all their Financial Planning needs.
Plus, we're not just brining you "any old" Financial Planner. We're bringing you D'Avery Pillay – a multiple award winning, ambitious professional who successfully ran his own financial services business. Ready for his next challenge, he's joined Highview, oh and did we already mention how excited we are!?!
We know D'Avery is the right person to support and nurture the growth of our Financial Planning services and to work successfully with our highly valued clients. He truly cares like we do, his values align with ours, and he prides himself on delivering great results for his clients – whilst ensuring they are comfortable and understand all discussions and decisions put forward.
Based across all four of our Highview offices, D'Avery's ready to take appointments with clients today – you can email him directly to start your Financial Planning conversation: davery@highview.com.au
A little more about D'Avery's experience & qualifications…
D'Avery Pillay is a qualified Financial Planner and Mortgage Broker with 10+ years' experience in the financial services sector, including a 5-year stint successfully running his own financial services business. More recently, he saw an opportunity for change, selling up his portion of the business to his partners in 2018. He joined the Highview Accounting & Financial team in 2019 – a relationship which has proved to be a meeting of the minds.

D'Avery's a driven individual and his knowledge is industry recognised having achieved four high-profile award wins during his career; 2016 Association of Financial Advisers Rising Star Award for Financial Planning
2016 Association of Financial Advisers Rising Star Award for Financial Planning
2017 Australian Broking Awards Diversification Program of the Year Award Finalist
2017 Mortgage & Finance Association of Australia State Finalist Excellence Award
2018 The Adviser Better Business Award for Best Community Engagement Program
Over the past decade, D'Avery has proven himself to be a passionate advocate for his clients, going above and beyond to ensure they get the best outcomes possible. He believes in providing advice and solutions clearly to his clients – in a way that breaks down any complexities. He's committed to his clients and always ensures they feel at ease with their financial plans and decisions.
When he isn't busy with work or home renovating duties, you'll find D'Avery researching his next overseas travel experience, or booking a weekend scuba diving adventure with friends.