How life insurance can help protect your home.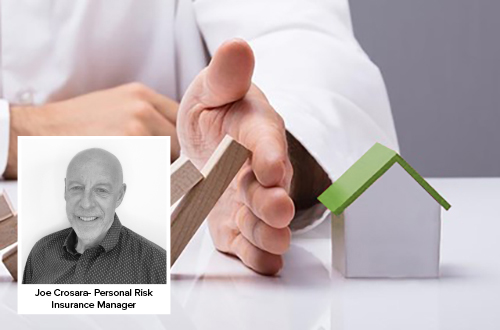 Whether you're thinking of buying your first home or are busy paying one off amid rising interest rates, a life insurance policy could protect your biggest financial investment if the unexpected happens.

In this article our Personal Risk Insurance Manager, Joe Crosara, highlights some life insurance options for our clients to consider.
A mortgage is a long-term financial commitment that you need to meet no matter what life throws at you. For this reason, you may want to consider life insurance to give you peace of mind that the roof over your head is protected.

According to the Australian Bureau of Statistics from 2014, 40% of Australians say they'd struggle to survive financially after just three months without a job.
Types of life insurance that you might consider to protect your home
Life (death cover)
This is a lump sum payment made to your beneficiaries if you pass away or develop a terminal illness. Your payout could be used towards paying off outstanding debts like a home loan or the ongoing costs associated with home ownership.
Total and permanent disability (TPD) insurance
With TPD insurance, you receive a lump sum payment if you're unable to ever work again due to a disability. This payment may help you to keep up with your monthly expenses relating to your home and can also be put towards making home modifications to help you live alongside your disability. Typically, a waiting period of 3 to 6 months applies to qualify for a TPD payment, in addition to being totally and permanently disabled as defined in the policy terms.

Critical illness (trauma) cover
If you suffer a critical illness such as a heart attack or stroke meeting the severity criteria set out in your policy, you will receive a lump sum payment that can be used to take care of ongoing expenses, including mortgage repayments, or medical treatment. This may alleviate some financial pressure, allowing you to focus on your recovery.

Income protection
Income protection provides a steady stream of income, replacing up to 70% of your pre-disability income if an illness or injury prevents you from working for a longer period. This allows you to continue living your life, secure in the knowledge that you can meet your financial commitments and protect your home. Income protection policies contain a waiting period which means that the illness or injury (preventing you from working) would need to be longer than your chosen waiting period before any possible income protection payments commence.

We know these topics can be unsettling conversations to have, but they are incredibly important. However, having a backup plan for rainy days can take a lot of weight off your shoulders when you've taken on a mortgage. If in doubt, our team of Personal Risk Insurance specialists can help you get the right level and combination of cover to suit your needs, so you can sleep easy at night knowing your home is secure.
Book a meeting with Joe Crosara, our Personal Risk Insurance Manager today.
Email joe@highview.com.au or call our office on 5990 1000.
We're here to help.
Source: TAL – Business Partnership Program October 2023 Resources.
PERSONAL RISK INSURANCE DISCLAIMER: Highview Risk Protection Pty Ltd ACN 656 219 528, T/AS Highview Accounting & Financial, is a Corporate Authorised Representative (No. 1301852) of MRC Financial Advice Pty Ltd ABN 58 636 335 227. AFS License No. 520249. PO Box 7206, Melbourne, VIC, 3004.