EXCITING NEWS! Highview Accounting & Financial now has our own Australian Financial Services Licence (AFSL).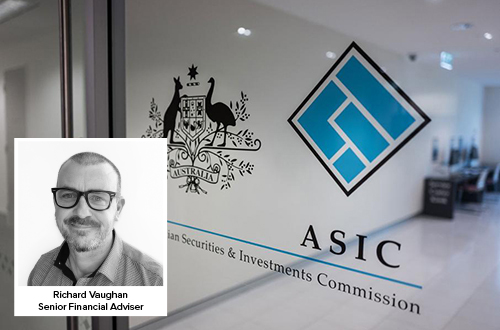 Richard Vaughan, Senior Financial Adviser, is thrilled with this news…
"Every single client of Highview has their own unique circumstances, experiences, goals & dreams – no two clients are the same. Proudly holding our own AFSL allows us, as our clients' trusted Adviser, to provide solutions that are absolutely tailored to each individual & unique client. High quality advice that always has our clients' best interests at heart, cannot be delivered on a 'one size fits all' basis."

So, what does this mean for our clients?
An AFSL is a legal licence provided by the Australian Securities and Investments Commission (ASIC), enabling the operation and activities of Australian financial services businesses.
Holding our own AFSL is a proactive and natural progression in line with the growth of our business. This enables us to better support and advise our clients by being more in control of how we operate – we can highly tailor the types of advice and appropriate solutions that strongly support the advice given to each of our clients. We are now able to research, review, select and recommend more options that are in our client's best interests – without restrictions that typically exist when the business is operating under a third-party AFSL.
These changes will benefit our clients greatly! We will have greater freedom to recommend the most efficient and effective financial solutions, without having any suitable options restricted, which can occur when operating under a third-party AFSL. Therefore, as Richard notes above, our clients' utmost best interests will be at the core of all our recommendations.
Having our own AFSL removes the risk that another company also using the same AFSL – inadvertently causing a licencing issue that can result in us being forced to stop providing advice to clients, or have services negatively impacted.
Good to note too – the costs of having our own AFSL versus operating under a third-party AFSL are the same. Over time, having our own AFSL is likely to improve internal efficiencies and may reduce the frequency of cost increases and help to minimise any increases in our Financial Planning advice fees.
The best part is, if you're a current Financial Planning client of ours, there is nothing you have to action. All our clients will be automatically transferred across to the new licence, unless we are advised and elect not to. If you're a current client and do not want to transfer to the new licence, you would remain with our current licence provider, and another Adviser separate to Highview would be appointed. Communications have been sent to all current clients already.
Some clients may need to sign new forms to enable us to continue to assist them under our new AFSL. We will directly get in touch with those clients affected and our Administration Team will assist with the completion of the paperwork to ensure the transition is as seamless as possible.
At Highview we're committed to continued improvement and are keen for our clients' to gain value from this growth and evolution within our Financial Planning services.
Any further queries?
Please speak with your Financial Adviser directly – we're here to ensure you're 100% informed and feeling comfortable about this exciting change.
Email our friendly team today: financialplanning@highview.com.au

FINANCIAL PLANNING DISCLAIMER: Highview Wealth Solutions Pty Ltd ABN 96 135 996 842 T/AS Highview Accounting & Financial (Corporate Authorised Representative No. 337009), Silvio Marinelli (Authorised Representative No. 457162), Bruce Chisholm (Authorised Representative No. 1235025), D'Avery Pillay (Authorised Representative No. 469915), Richard Vaughan (Authorised Representative No. 358609) of Highview Wealth Solutions (Aust) Pty Ltd ABN 22 665 047 530 T/AS Highview Accounting & Financial AFSL No. 546561.