Highview donates $5K to support Reach Giving Day!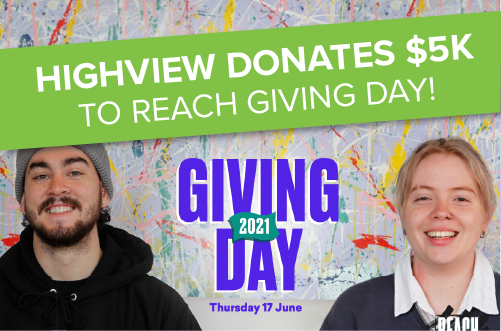 We're so proud to have supported young people to discover their power and get the most out of life!

Our friends over at The Reach Foundation run workshops that help young Australians build their resilience and confidence: something we need more than ever with this pandemic. The proportion of young Australians without work is still almost double that of the rest of the population and there are alarming reports of deteriorating youth mental health. Of those that attended a Reach workshop: 70% of them felt more able to keep going when things got tough.
We wholeheartedly support Reach's work and for every dollar donated on Giving Day (17 June), the Reach network will double it. We've committed $5K from the team at Highview, and it feels so good to give back!

To learn more about REACH Giving Day check out their YouTube clip: https://youtu.be/j-hrp2lYwDg
#ReachGivingDay #Highviewdonates$5K #HelpSupportYoungPeople
…and although REACH Giving Day is over, there's still time to support them & donate via the below link (great timing for a tax deduction before 30th June!) DONATE HERE: https://the-reach-foundation.giveeasy.org/2021