Congratulations to Matthew Lazzaro on his promotion to Associate Partner!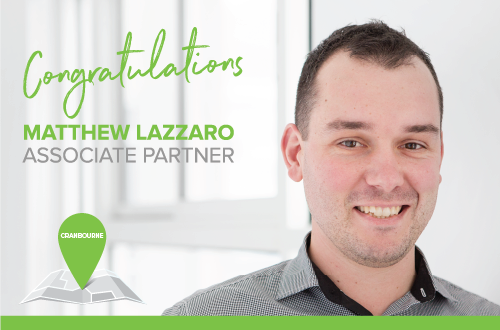 Matthew is highly regarded in the Highview community & brings a high-level proactive strategic approach to meet his client's needs.
Highview welcomed Matthew Lazzaro in 2016 & what a fantastic asset to the team he has been since! In July 2022 Matt was named Associate Partner, proving his strong value to the team over his years of commitment & service.
Based at the Cranbourne office, Matt manages clients within Silvio's large team & is a significant addition with his great wealth of knowledge & experience.
Before joining Highview, Matt completed a Bachelor of Commerce at Latrobe University. From there, he began work as both an Accountant & Client Manager for firms in Balwyn & Essendon, during which time he attained his CPA accreditation. Now, with over 13 years of accounting & management experience up his sleeve, Matt has become an integral asset & confident mentor to others at Highview.
Matt explains the most rewarding part of his role at Highview…
"By its very nature Highview is fast paced & collaborative. Highview is fuelled by its hard-working members & the environment here is ingrained in a positive ethos that makes it very attractive to work at."
"Everyone you meet here at Highview, the staff & clients, are all so friendly & genuinely great people & it makes it a pleasure to come to work every day" said Matt.
Matt's greatest enjoyment working at Highview surrounds building great relationships – the opportunity to collaborate & work closely with his colleagues & his clients. As a leader at Highview, Matt has been provided with the platform to utilise his strengths & passions which has seen him absolutely thrive & deliver exceptional results for his clients.
"It's a privilege to be able to work meticulously with our clients. I'm able to build close relationships with clients, really listen to them & understand both their personal & business goals. The main focus for me is to truly understand what our clients wish to achieve & being able to assist them in executing & reaching those aspirations… it's just so rewarding."
Another area Matt loves about Highview, is the businesses belief in consistently delivering the highest standard of client service across its diverse client groups.
Matt mentions the ongoing learning offered at Highview – "Monthly training & mentoring opportunities mean that staff are continuously improving their skills & staying ahead of the curve in many important areas of business in Australia."
When Matt's not crunching numbers at the office…
Matt is an adrenaline junkie & loves snowboarding & wakeboarding. During the Winter months Matt enjoys heading off to Mt Buller, then in Summer he enjoys spending time away on weekends at his holiday house in Bonnie Doon, where he can tear up the water on his board, as well as take his gorgeous British Bulldog Gracie out for a swim. Matt is passionate about being outdoors & when he's in nature he is his happiest… as long as his beautiful wife Kat & daughter Emilia are with him of course! Matt & Kat welcomed their firstborn Emilia in December 2021. Becoming a father has been another wonderful journey for Matt – the future sure continues to look incredibly bright!