Congratulations to Avi Gopala on his promotion to Associate Partner.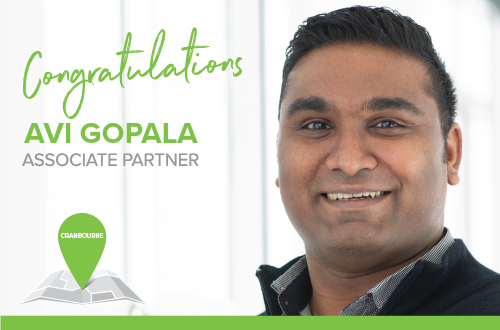 Passionate about positive outcomes & helping businesses thrive, Avi has been an integral part of the Highview leadership team since 2014.
Avi Gopala is a professional that's passionate about positive outcomes & helping businesses thrive. A Certified Accountant with over 15 years' experience in the industry, Avi commenced his career at Highview in 2014; & through hard work & dedication he established himself within the Highview leadership team being announced as an Associate Partner in July 2022.
Settling into a beautiful life in Australia has been easy for Avi. His positive, bright & friendly attitude makes him a pleasure to be around. Moving from his home country of Mauritius in 2004, away from his large family (seriously, over 100 cousins!) he planned to study hard to earn his Australian degree. Living in a share-house in Brighton with his brother & friends was a great experience & according to Avi made it super easy to settle in & meet new people often.
Since a child, Avi has had a strong passion for martial arts & body building sports. He enjoys training & watching karate, boxing, Muay-Thai, mixed martial arts & Brazilian Jiu-jitsu. Yes, all those intense physical sports! The thrill of the sports that Avi most enjoys is the technical aspect – "the dedication, focus & sense of control you need to be skilled at these sports is what I find fascinating" says Avi. "I like to keep fit & active – I am currently training Jiu-jitsu at a local club. I also find training to be a great way to meet new like-minded people."
When Avi's not sweating it up in the gym, he's at home enjoying family time with his wife Sophie (who we hear is an incredible cook!) & daughter Ariana. Avi is one very proud father – his eyes light up when he speaks about his daughter – "I look forward to going home each evening to see her little face & chat with her" he says. Majority of Avi's family remains in Mauritius, so a big family holiday every 2 years' is something he always looks forward to.
Avi is a detailed-orientated individual that likes to continually challenge himself. His role prior to Highview was both audit & tax, which has been a great asset to his clients at Highview. However, his experience extends further as he was previously a business owner himself. Avi is quite the tech-expert at Highview & using this natural flair for technology (initially as a hobby) Avi built & managed his own successful e-commerce store selling car parts. He managed this business for 2 years prior to selling it for a nice little profit. Being able to align his own learnings as a business owner with clients' has been highly valuable.
Working under the direction of Cranbourne Partner Dave Sheahan, Avi continues building strong client relationships & looks forward to a lengthy & positive career at Highview – "Highview is like a family to me. I enjoy getting to know my clients well because I truly care about their success & will work hard alongside them to help them achieve the results they desire."