A moment in time.
Over the past month we've re-discovered Melbourne's heritage, focussing on the four suburbs of our Highview offices; Cranbourne, Prahran, Mornington & Ringwood. It's great to take a moment to reflect, we've learnt some interesting facts along the way & it has sparked some great discussions within our offices. Take a read of our re-cap below.
CRANBOURNE
Back then… Looking along High Street, Cranbourne in the 1960s. Wow – it's a little scarce compared to 2021! Check out Cranbourne Park Shopping Centre in 1978. The centres more recent major redevelopment occurred in 2015 and certainly took the precinct to a new level. It was needed: Cranbourne's population in early 1960's was estimated at 10,908. In 2020 it was estimated that Cranbourne's resident population was 22,980. A larger shopping mall was a must!
The last photo shows the iconic Kelly's Hotel – the place our Cranbourne office team members still frequent for their Friday luncheons!
FUN FACTS: Our first 'official' Cranbourne office premises opened in the year 2000 with 6 team members & has since moved twice, each time a stone's throw from the previous building, but an upsize to cater for our wonderful team growth – we now have 45 staff at our Codrington Street purpose built site!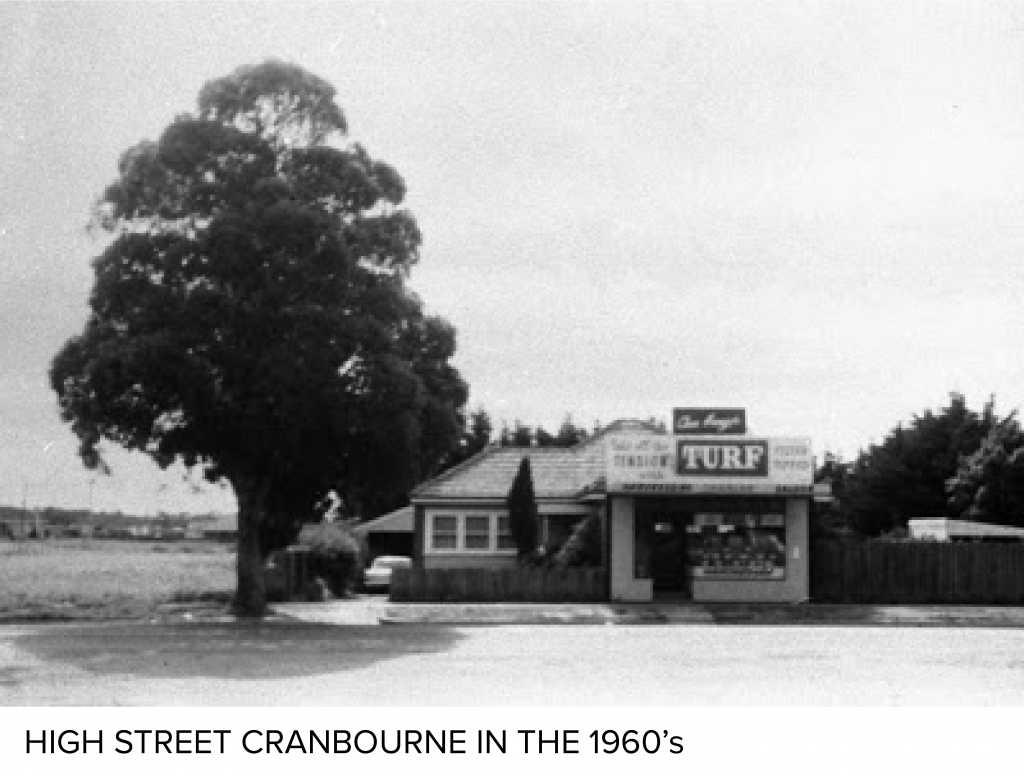 ---
PRAHRAN
Loving this shot of The Jam Factory building, Chapel Street Prahran. The vintage automobiles look incredible! The Jam Factory was originally established as the Victorian Brewery, then by 1880 it had become a preserve company & was the largest employer in Prahran with 230 people employed in the fruit season. Who recognises the household brand name IXL? 1895 was the establishment of IXL & jam production continued in the building until 1970! At a cost of $20 million the site was redeveloped & opened on 9 October 1979 as a shopping centre. Then in 1995 was redeveloped as the Jam Factory. Today the building remains iconic – it boasts diverse dining options, fashion boutiques & is largely known for its 15 cinema screens. For our team at the Prahran office, there's no other cinema they'd visit!
FUN FACT: In 2011 we opened our Prahran office with Director Simon Byers, just a stones' throw away from The Jam Factory on High Street. Our Prahran team has grown, now with 15 employees! Some epic office renovations occurred in 2018 to reconfigure the space & add a snazzy new reception area downstairs! There's no plans to move from this wonderful High Street location, unless we outgrow it & have no choice! 😊
Source: State Library of Victoria, Wikipedia.
---
MORNINGTON
Then and now… Strolling down the historical Main Street of Mornington has as much buzz now as it did in 1951! It's one of the Mornington Peninsula's favourite streets in the region's largest seaside village. Stretching a whole kilometer, these days you'll find over 350 stores. In the 1950s the street was known for around 20 including the iconic Cinema, Court House & Lock Up, Commercial Bank, General Store & The Grand Coffee Palace – later named The Grand Hotel! We love how similar The Grand Hotel still looks – the tower has always been a landmark feature in the town. After a few paint refreshes & some light renovations, the building retains its original distinctive French Renaissance revival style roof. We just love that the original character remains strong.
FUN FACT: Opened in 2014, our Mornington Office is positioned directly opposite The Grand Hotel on Main Street. Our teams' large office windows capture the view of this iconic building beautifully.
Source: State Library of Victoria, Mornington Peninsula Shire, Wikipedia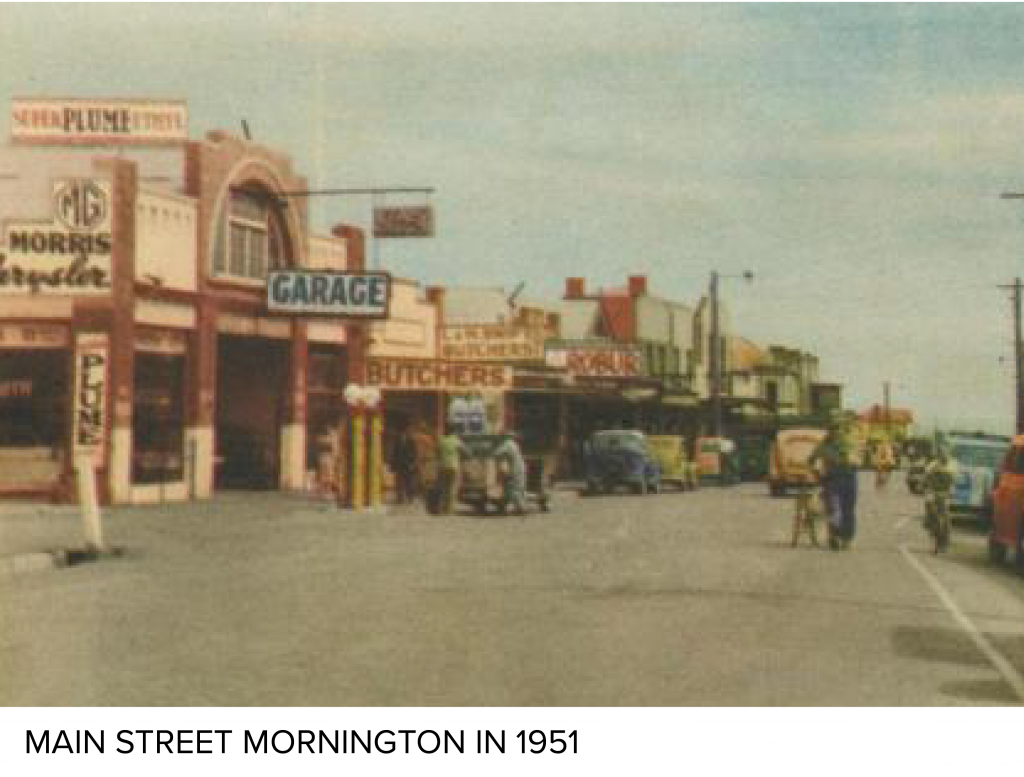 ---
RINGWOOD
Ringwood has been the most recent suburb that our Highview business has moved to – and not surprisingly as it's one of the fastest growing suburbs in Eastern Melbourne. Opening our Ringwood office in November 2018, we've loved building our client base in this fantastic area.
Disappointingly, not a lot of historical buildings or icons remain in Ringwood from 'back in the day'. Except for something VERY special – the Clock Tower. Conceived as a War Memorial after the Great War, the Clock Tower was built in 1928 on the corner of Whitehorse Road (Main Street) and Warrandyte Road. The Clock Tower became an icon and, increasingly, a traffic hazard due to its location near a high traffic roundabout on Main Street. With the mooted development of Eastland Shopping Centre nearby, it was decided, after some controversy, to re-erect the Clock Tower at the site of the former Cool Stores on the corner of Whitehorse Road and Wantirna Road. A beautiful garden now surrounds the Clock Tower with flowers replanted seasonally. It's a wonderful part of history to admire.