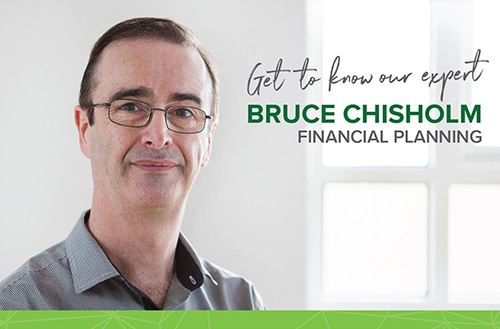 Bruce was welcomed to the Highview team in 2015, and since has made his mark in the business as a highly skilled and qualified Financial Planner with a wealth of life and business experience. Coupled with accolades in support of his expertise and knowledge, Bruce is certainly a great asset to the Highview team.
Bruce is a member of the Financial Planning Association (FPA), Australia's leading professional community of financial planners. As a CERTIFIED FINANCIAL PLANNER® practitioner, Bruce has gone one step further to achieve the highest qualification in financial planning worldwide. Bruce's knowledge was recognised in 2013 when he was ranked in the Top 50 Master Class Honour Roll by the Australian Financial Review Smart Investor.
With over 12 years of experience advising clients together with prior accounting and management experience, Bruce has the competence and expertise to develop, implement and manage transformational strategies to give clients the security and peace of mind that comes from being prepared for the future.
Bruce's advice services include insurance, superannuation, self-managed superannuation funds, investments, retirement planning, wealth protection, estate planning, budgeting, goal setting and financial coaching.
Bruce is passionate about the positive difference trusted and credible advice can make to clients' lives, by working with them on an ongoing basis. Outside of work Bruce enjoys spending time with his wife and son, maintaining his garden and vegetable patch, and enjoying the lifestyle offered by living on the beautiful Mornington Peninsula.
If you'd like to meet with Bruce please contact our Cranbourne office on 5990 1000 or email Bruce directly bruce@highview.com.au
Bruce Chisholm – Authorised Representative No.1235025 of Interprac Financial Planning Pty Ltd Licence No. 246638