Introducing the HIGHVIEW Portal & App
Your personal HIGHVIEW Portal has been uniquely designed to add value and convenience to the lives of Highview Accounting & Financial clients.

Our easy to use Portal gathers information in one place, is accessible anytime, has bank level security, enables electronic document signing, features an online payment platform, offers important notifications and client update alerts 24/7 – and ultimately will help you track and manage your entire financial world.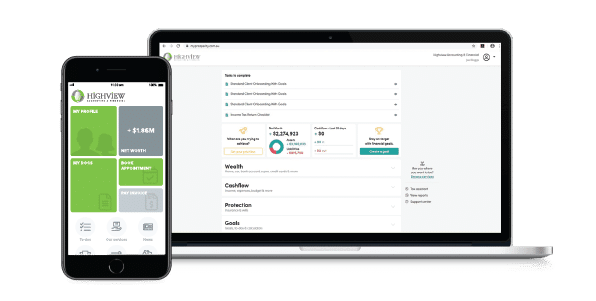 Access the Portal via the HIGHVIEW App!
Once you've set up your Portal with our team, download the HIGHVIEW App on your phone for a convenient way to access your Portal on-the-go.
Download the HIGHVIEW App below: but remember to get your Portal set up with us first!


Login Details
HIGHVIEW Portal login details must be provided to you by your local Highview Accounting & Financial office. Non Highview Accounting & Financial clients cannot access the HIGHVIEW Portal.
Premium Subscription

If you're a client who's signed up to one of our Financial Planning ongoing packages, you can take advantage of our premium subscription at no extra cost. Set financial goals, track your spending and better understand your financial position. Speak with your Highview Financial Planner today to gain access to your premium HIGHVIEW Portal subscription.
For information on how to get started click here.