Congratulations to Adam Pasquill on his promotion to Associate Partner!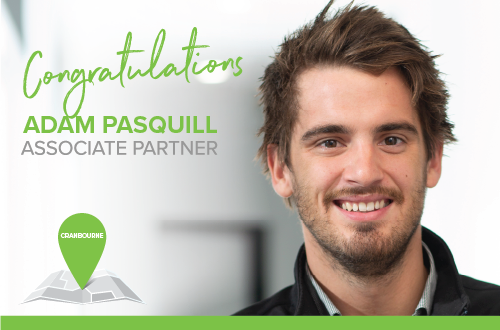 A strong commitment to seeing his clients grow & succeed is Adam's driving passion behind his career.
Adam Pasquill has worked in the Accounting Industry for almost 10 years. He started his career at an Accounting & Advisory Firm in Frankston as a Graduate Accountant & Financial Planning Assistant, before joining the Highview family in 2015.
He became CPA qualified in 2019, but he didn't just complete the course, he graduated with Excellence maintaining a High Distinction average throughout his studies (a touch of a bookworm!). Adam now also holds his Registered Tax Agent Licence & his Public Practice certificate.
Adam has a contagious & ambitious nature about him that drives his desire to face new challenges each day at work. His career has grown leaps & bounds at Highview with his 'born leader' approach & mentoring provided by Partners Darren Crowther & Nick McPhillips. "Highview is not only a career for me, but also my family – a family I would do anything for."

"My client portfolio has grown exponentially & Highview have provided all the support & guidance to best service their needs since being in my role. I have been given opportunities to grow personally & professionally – being trusted to work independently & autonomously for many years has allowed me to grow & expand my knowledge & skills" Said Adam. This was certainly rewarded & recognised with Adam being named an Associate Partner at the Cranbourne office in July 2022.
Adam explains the most rewarding part of his role at Highview…
"Working alongside my clients, whom most I'm lucky to call friends is the most rewarding part. I love to watch their businesses go from strength to strength, providing sound advice & direction along the way."
Adam's core strengths are in providing up-to-date advice & information about all things tax related for small & medium sized businesses. "Small business start-up advice & structuring is where I thrive. I'm a forward thinker who enjoys strategic planning with businesses, ensuring personal goals align with business goals. Taxation advice & lawful minimisation, business technology selection & implementation as well as Financial Reporting are my areas of expertise." Adam notes.
Not just a numbers guy…
Adam is an extremely outgoing & sporty guy who loves the gym but also enjoys slowing down & taking time to look after his garden at his new home with partner Maree. Huge news – he & Maree welcomed their firstborn in December 2021, a little boy Logan. Being a father has been an absolute highlight for Adam! Adam is also a proud Uncle & is a big softie when it comes to spending great amounts of time with his young nieces & nephews.