Login Details
HIGHVIEW Portal login details must be provided to you by your local Highview Accounting & Financial office. Non Highview Accounting & Financial clients cannot access the HIGHVIEW Portal.
How to get started
Step 1. We will send you an email invitation to your Portal
Step 2. Activate your account and start entering your details
Step 3. Download the mobile HIGHVIEW App, login and start accessing all of your Portal information on-the-go
NOTE: You must be a Highview Accounting & Financial client to use the HIGHVIEW Portal or App. Only Highview Accounting & Financial clients will be 'invited' and provided unique login details to begin activating their Portal. It's important you set up your Portal with us before you download the App.
Haven't got your invitation?
Email us today at support@highview.com.au and we'll get in touch. 

For information on how to get started view our HIGHVIEW Portal & App Guide.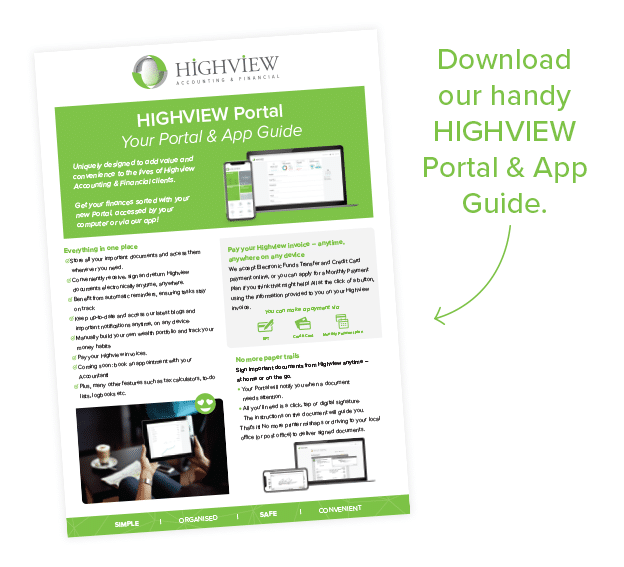 More info about…
Bank Level Security
Document Signing
Estate Planning Redefined – Premium subscription only
Property Owners– Premium subscription only
---
FAQS
GENERAL FAQS
Do I need to be a client to use the Portal?
Yes, you do. This Portal is specifally customised for clients of Highview – consider yourself special!
Do I have to pay to use the Portal?
Not at all! The Portal has both free and premium subscriptions available. Premium subscriptions are only available to Highview Financial Planning clients who've signed up to one for our Financial Planning ongoing packages.
How do I login to the Portal?
Visit: https://myprosperity.com.au/Accounts/SignIn/
Highview have partnered with third party MyProsperity to bring you this secure Portal (that's why you access it via the website above). After you've logged in for the first time, you'll notice our Highview logo will appear the next time you visit this site. We suggest you save this web link as a 'Favourite' or 'Shortcut' on your desktop for future quick access.
HANDY HINT: Do NOT use Internet Explorer, this is an outdated web browser. Use Chrome or Firefox web browsers, these are most compatible with the Portal.


What is my user name?
Your email address.
What is my password?
You will be asked to set your own password when you're invited to access the Portal for the first time.
Can I reset my password?
Yes, by simply clicking the 'Forgot password?' link on the login screen (via the Portal or App).

I can't seem to login – what do I do now?
1. Try changing your web browser. Chrome or Firefox are most compatible with the Portal.
2. Check that you are using the correct email address as your username. 3. Try resetting your password.

What if my Partner & I share the same login email, is this ok?
Yes this is fine! You'll just both be accessing the Portal or App with the same email & password.
Can I change my email address?
Yes. Login to the Portal, go to 'My Profile' then 'Account Details'. Then click 'Edit account details'.
Who is My Prosperity – I thought this was a Highview Portal?
MyProsperity is a third-party secure platform that we've partnered with to bring you the Highview Portal. It is 100% a Highview Portal for Highview clients only. We've just utilised the fantastic software that MyProsperity has developed to bring you this secure Portal.
Can anyone join?
No. This Portal is for Highview clients only & you must be 'invited' by Highview to gain access. When you have your first electronic document to sign, you will receive your personal invitation to the Portal to get started.
What is the difference between the online Portal and the Highview App on my phone?
Think of your App as a simple & quick way to access to the Portal. The Portals full functionality can be accessed best when you login via your computer. However, when you're on-the-go you can access the Portal via the Highview App. It's just like online banking. For example, you can use the computer to login to your online banking account & gain detailed access to your information, while also having the banking App on your phone to complete quick transactions or queries. They are both your account, just two different ways to access them.
Is there a Support Centre within the Portal?
Yes. There's heaps of help online. When logged in, click on 'Support centre' option.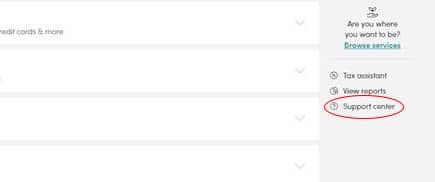 DOCUMENT SIGNING FAQS
Why have you introduced electronic document signing?
It's safe, easy to use & incredibility convenient. You can sign via your phone, on-the-go, 24/7! It also speeds up our internal processes so you get your work completed in the most efficient manner.
Are my information & documents safe?
Yes. Know with confidence that your information is secure. The Portal has bank level security: it uses the same encryption standards banks use to protect your money. You can also enable multi-factor authentication (MFA) to the Portal anytime.

How will I know I have a document to sign?
You will be sent an email. If you have the Highview App on your phone, you may also get a notification via your mobile (that is, if you have allowed notifications in your mobile phone settings).
Where do I go to sign the document?
When logged in to the Portal, you'll see a little bell symbol at the top right of your screen, click on this & it will take you to the document. This is your 'notifications' symbol.

How do I sign the document?
Once you've opened the document, it will step you through the areas you need to sign (for example, you may have 5 areas to sign & it will step you through these one by one). When you have signed all required areas, you will need to click 'Next' and 'Submit'. You will then get an email confirming your signed documents have been completed.
It says my Partner & I need to sign the document. How do we do this?
If there are two parties required to sign the document, you BOTH need to login to your individual accounts with your own email addresses to sign your portions of the document. The document will not come back to us as finalised until BOTH parties have logged in & signed / completed their retrospective areas. If you are sharing one access (i.e. one email address to login), you will be asked to confirm your identity upon opening the document.

How does this 'Click to sign' actually work? Is it a legal signature?
Click to sign signatures are 100% legal, they comply with the most demanding regulations & are approved by the Australian Taxation Office. An electronic signature carries the same weight & legal effect as a traditional paper document with a pen & ink signature. You do not need to physically sign, just 'click' where indicated – the 'click' is your electronic signature!
Why am I still getting reminders to sign my document?
You may have missed one of the areas you need to sign, we suggest you log back in to check. Alternatively, you may have not submitted it by clicking 'Next' and 'Submit' or maybe the co-signer still needs to sign their areas. Try once more.
Where can I see Documents that I have signed?
Everything will save in you 'Docs' folder.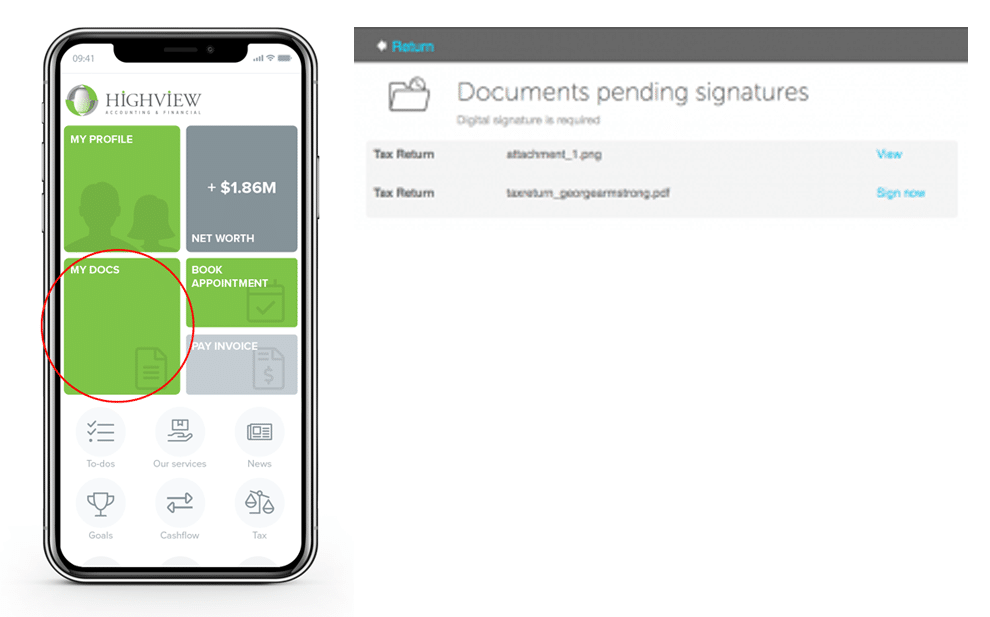 Can I send other documents to Highview securely?
Yes. You can upload documents to your 'Docs' folder, but you will need to notify your Highview Accountant that the file is there for viewing. We will not be notified otherwise. This is a very safe way to send us your documents (much safer than via email!) & storage is unlimited.
After I have signed my tax return documents, when will they be lodged? 
For individual tax returns, these will be lodged upon payment being made in-full.