For information on how to get started view our HIGHVIEW App Guide.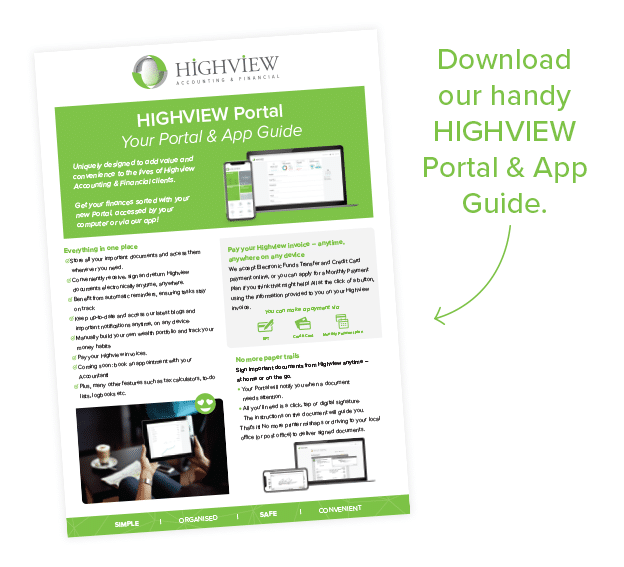 Login details
HIGHVIEW App login details must be provided to you by your local Highview Accounting & Financial office. Non Highview Accounting & Financial clients cannot access the HIGHVIEW Portal.
How to get started
Step 1. We will send you an email invitation to your Portal
Step 2. Activate your account and start entering your details
Step 3. Download the mobile HIGHVIEW App, then login to begin!
NOTE: You must be a Highview Accounting & Financial client to use the HIGHVIEW App. Only Highview Accounting & Financial clients will be 'invited' and provided unique login details to begin activating their Portal.
Haven't got your invitation?
Email us today at support@highview.com.au and we'll get in touch.

More info about…
Bank Level Security
Document Signing
Estate Planning Redefined – Premium subscription only
Property Owners– Premium subscription only
FAQS
Do I need to be a client to use the Portal?
Yes, you do. This Portal is specifally customised for clients of Highview – consider yourself special!
Do I have to pay to use the Portal?
Not at all! The Portal has both free and premium subscriptions available. Premium subscriptions are only available to Highview Financial Planning clients who've signed up to one for our Financial Planning ongoing packages.
If I'm a Highview client, must I get this Portal?
Yes, you must. By July 2020 Highview will be using this platform for all document signing requirements. It will save you time and enable you access to your documents anytime you need.
Does Highview have support for setting up and using the Portal? Yes of course! We have loads of helpful support information on our website here: highview.com.au/app-support as well as a dedicated support email you can contact with your query anytime: support@highview.com.au.